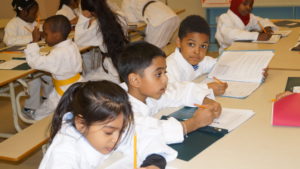 University Bound with Wadoka (UBWW) is a program that expands how Universities and Communities can work together to give opportunities to children that not only expand their horizons and develop skills but set the stage for expectations of future excellence in whatever they choose to do.
Conceived in the spring of 1990, the president of Wadoka Academy, Colin Ninvalle, knew that university could be a life changing experience. As he started developing programs and activities in the Jane-Finch neighbourhood of Toronto, Canada, he believed that martial arts principles and practices would create an atmosphere for students that would facilitate an optimal level of learning.  He called it the LEAD (Learning Environment Alternative Development) program at the time, setting the stage for this long-term vision of opening the doors, instilling the discipline and exciting the students to post-secondary education.
At the time, the program was based on introducing "at risk" students to the "Wadoka method" (a martial arts-based system), to enhance their performance ratings in both social and academic areas. The program achieved such immense popularity with parents that it attracted the attention of York University's Faculty of Education. From 1992-2010, through an initiative called the "York/Westview Partnership," the Faculty supported a number of community-based programs that shared its vision of "opening the door to post-secondary education" for students living in the [Jane Finch] neighborhood."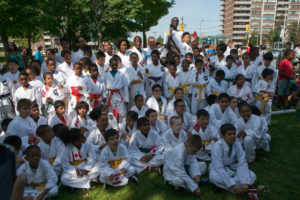 To qualify to take its place alongside these post-secondary "pathway" programs, LEAD incarnated to become the MATS (Martial Arts and Tutoring Studies) program and by the year of 2015 had been established in twenty (20) Jane Finch elementary schools serving just over five hundred (500) students. The program was selected by the community to headline the Toronto Pan Am Games Jane Finch Host Committee "Torch Relay" ceremony held at Driftwood Community Center during the Toronto 2015 Pan Am Games. Sixty-three (63) students (pictured) representing up to 20 Jane Finch elementary schools, along with teachers, principals, parents, families, friends and others converged to celebrate the occasion. It was this unique display of 'community engagement' and support that also caught the attention of York University's Department of Kinesiology.  Through this confluence of interest and support from York University, Wadoka then established a relationship with York's Tait McKenzie Athletic and Sports Centre.  A new program grew from this relationship and Wadoka was able to offer a special Saturday program that included swim lessons with Tait McKenzie staff, homework help, and parent support.
As the program has developed and matured, the strategic decision was made to attach the program to their 'grass roots' group called the Wadoka Parents Community Network (WPCN). This 'network' consists of over one thousand (1,000) parents and relatives of program participants in associated schools. They have been providing financial and other kinds of support to the program after the York/Westview partnership discontinued in 2010. This has allowed the program to develop and grow with parent involvement throughout.
University Bound with Wadoka selects sixty-four (64) students in 3 sessions annually who attend the UBWW program at York and are drawn from an already-established student body in attendance at Wadoka programs in the neighborhood schools. They receive in-kind program support from York, but the other costs are entirely funded by the WPCN.
Colin Ninvalle believes that University Bound with Wadoka is building a strong foundation for students and "continues to be an original affirmation of both our mission and purpose. Students learn the discipline of martial arts, they gain swimming skills, they have positive interactions at York University, and we know we will see an increase in the number of Jane-Finch public school students attending university."